Our product development team have worked hard on choosing the most on trend colours that compliment the environment in your garden. Adding a modern twist to the traditional greenhouse our stylish approach was extensively considered to suit every gardener's needs.
---
All our G1 greenhouses come with integral guttering, allowing for easy connection to a water butt. As well, all include a 4-blade louvre for extra added manual ventilation to put you in control of your greenhouse temperature. Our larger sizes comes with the automatic window opener, activated when hitting between 13-18 °C helping you to eradicate the stress of trying to regulate the temperature in your greenhouse.
With a lockable, low threshold door to minimize the risk of tripping and avoiding any unwanted visitors in your Greenhouse. SAN glazing is another safety feature in the G1 range; this 3mm thick clear alternative to glass is rigid, strong and UV stable.
---
We wanted to design a Greenhouse that was robust and easy to install. On average our Greenhouses take 6-8 hours to build and comes with simple step- by- step instructions. Built with an integral box section base with cleated corners for added strength & flexible nut track system to allow fixing points to be positioned anywhere along the side of the base.
We've made the building process as simple as possible and are proud to say that the G1 greenhouses can be fully unpacked and constructed within a single day, if you've ever put together flat packed furniture, you are overqualified. We have highly detailed full colour step by step pictoral instructions plus our customer service team is on hand to help - having all built at least G1 themselves!
All you'll need for installation is:
Multi-driver
T20 torx bit
Tape measure
Spirit level
10mm socket bit
Scissors/garden snips
Step ladder
10mm spanner
AUTO VENT OPENING WINDOW as standard*
Ventilation is an important part growing undercover, that's why our G1 greenhouses in both medium 4ft & and large 8ft models come with an opening window including a temperature-controlled auto vent as standard.
This can be added as an extra to our 2ft mini-greenhouse model. The window is fitted with an extra-large temperature-controlled opener which can be configured to your preference. This means when the air temperature inside the greenhouse rises, so does the window.
When the window is paired with the included louvre, this creates airflow, drawing cooler air in through the louvre and expelling hot air through the roof window. If you'd like to increase your ventilation capabilities, our 2ft model can be fitted with two windows, our 4ft with four windows and our 8ft with eight.
SUPER CLEAR 3MM UV STABLE PLASTIC SAFETY GLAZING
Our G1 greenhouses are glazed with a robust 3mm thick styrene-acrylonitrile (or SAN for short) glazing panel.
SAN is an ultra-violet stable, transparent plastic material that is commonly used in applications where excellent clarity and resistance are required, such as shed windows, machine guarding, partitions, shop fitting etc.
SAN has excellent light transmission properties and is a hard wearing weather-resistant polymer. This makes it a perfect material for our greenhouses as it allows us to offer the clarity of glass without the dangers that can be associated with children and pets playing in close quarters with a glass-clad structure.
Want to know a little more about SAN, why not check out our supplier's product information sheet.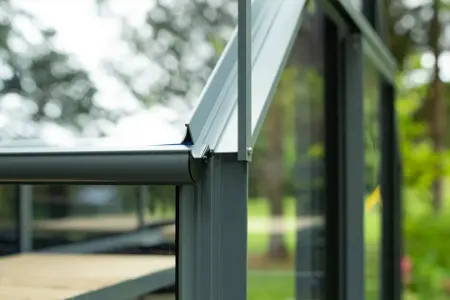 LOW THRESHOLD EASY ACCESS DOOR
Our ultra-low threshold door offers step-free access to your greenhouse. You'll be super thankful for this nifty little extra when you're lumping in a great big bag of soil, or you're juggling with pots and sharp tools.
The threshold is formed into a very gentle ramp, and this dramatically reduces the chances of tripping over when entering and leaving the greenhouses. For added grip and durability we've added tread lines running across the threshold strip.
Our door runs neatly and smoothly along a "u" shaped channel across the threshold keeping it secure in all weathers but without the need for bulky fixings, wheels or castors that increase threshold height and present a trip hazard.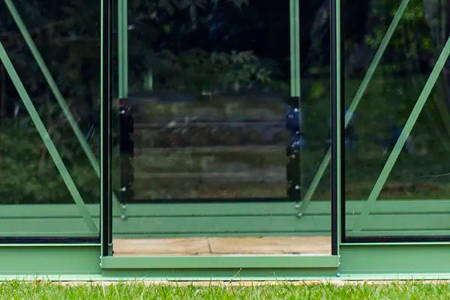 PUSH FIT BEADING GLAZING SYSTEM

Our distinctive full-length snap-fit beading means that glazing panels are retained to the frame along the full length of each panel. This increases overall structural strength and means your panels stay snugly fitted to the frame.
The system has the added benefit of reducing drafts, making it easier to control temperatures during colder windier days. The glazing clip is co-extruded with a flexible rubber seal on the edge that is pushed against the glazing; another gasket seal is used below the glazing to form a tight seal around the glazing panel.
If you've ever built a traditional greenhouse, you will have encountered the dreaded glazing spring or clip that are placed at intervals around the glazing. These can be unsightly, rust over time as they are usually made from steel and can be quite painful if you accidentally misfit one. Our snap-fit glazing panel does away with rust and sore thumbs for everyone.
4 blade louvre as standard
All G1's come with a four-blade louvre as standard. This is fitted to the centre of the rear gable and offers excellent airflow. The blades are cut from super-tough 8mm acrylic for extra-long life. The four blades move smoothly together and allow fine control of the airflow into the greenhouse.
The G1's louvre is manually controlled as standard, and you can add a temperature-controlled auto opener to your louvre for a little extra. For those looking to add more ventilation, additional louvre kits can be purchased separately.
HIGH QUALITY BASE PROFILE
Having a top-quality base profile is an essential part of building a durable and long-lasting greenhouse. Many competitor greenhouses charge extra for an aluminium base. We include an extra sturdy box section base profile as standard meaning your G1 will sit squarely and proudly for years to come.
Additionally, it eliminates the need to build timber or brick bases which can be time-consuming, costly, and which can deteriorate over time.
The box section base features two nut tracks all the way around on the inside, and you can use the "L" brackets provided to connect the base to suitable sub-base such as concrete, slabs, decking or even right onto soil using ground anchors if you wish.
The precision mitred cleat joined corners provide a strong, stable join between the four sides of the greenhouses and an aesthetically appealing lip on the external face.
LOCKABLE DOOR WITH TWO KEYS
Our sliding door features a lockable handle as standard, provided with two keys. This is especially important if there are little gardeners about to keep toddlers and tools away from one another. The door opening size is 564mm on the standard G1 model.
The G1 boasts extra-wide guttering to cope with large amounts of rainfall. We've built an attractive round gutter profile right onto the eaves of every greenhouse. This gutter has a diameter of 32mm which means standard black 32mm waste/grey water pipework and other fittings can be used to harvest rainwater.
Two 32mm right-angled male-female connections are provided as standard with every G1, allowing to customise whichever rainwater collection system best suits your needs. If you'd prefer a pre-built kit, we can provide a unifying pipe and connectors suitable for most water butts for a little extra (as pictured).
HIGH EAVES WITH PLENTY OF HEADROOM
The G1 has a superb eaves height of 1599mm which means there is ample room for taller plant growth or to site staging and have things stacked up to the rafters.
The overall height is 2353mm so even the tallest growers can stand comfortably without needing to duck down causing lower back pain.